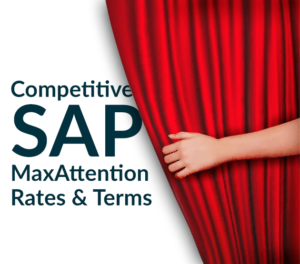 Unlike its other professional services arrangements, SAP has packaged its MaxAttention offering in a manner that prohibits customers from benchmarking the competitiveness of their deals through a traditional services rate assessment. Despite this, UpperEdge's clients are leveraging our data-driven capabilities to remain competitive across SAP offerings by benchmarking MaxAttention rates, validating resource allocation, and obtaining contractual flexibility.
SAP's Premium Support Offering
As a complement to Enterprise Support, MaxAttention is SAP's premium support offering which focuses on both the needs of your business and IT. For your business, SAP works with executives and lines of business to develop roadmaps, identify areas of value, and execute on plans to achieve strategic objectives. For IT, SAP works with technical teams to ensure continuity, improve business processes, improve the efficiency of IT operations, and increase the value derived from SAP solutions.
These business and IT objectives are met by allocating support days to SAP resource roles for the customers' use during defined periods of the term. Leveraging a combination of engineering architects, technical quality managers, support services and experts on demand, UpperEdge's clients have found this premium support offering to be valuable.
Benchmark Rates
When SAP provides a proposal to a MaxAttention customer, they recommended a certain number of days for each resource role by period and the correlating service fee (for that period). SAP has been reluctant to provide customers with transparency into the rates for each resource role and this is done intentionally. SAP understands the lack of transparency prohibits customers from conducting a traditional services rate assessment.
With UpperEdge's exposure to numerous MaxAttention deals, we have gathered data to leverage and benchmark MaxAttention support proposed by SAP to our clients.  We do so by benchmarking SAP's proposed daily rates (e.g. $4000/day) for each period according to the recommended resource allocation (e.g. 25% EA, 20% TQM, 20% SS, and 35% EOD). In addition, we consider other factors such as length of term, number of support days, size of the larger relationship and SAP roadmap.
Validate Resource Allocation
Depending on the needs of a prospective customer, SAP will propose a recommended resource allocation. UpperEdge can validate SAP's recommended resource allocation and assess opportunities to shift and/or reduce resource days.  UpperEdge may recommend shifting days to other resources to accomplish the underlying objectives or reducing days for a role to avoid waste. Beyond the confines of the MaxAttention support, UpperEdge will consider any potential overlap with work that is being (or may be) undertaken by system integrators.
Obtain Contractual Flexibility
Being mindful that customers are often concerned about waste, the default provisions of SAP's MaxAttention support services schedule aren't of any relief. By default, unused resource days cannot be carried forward into subsequent periods.  As such, UpperEdge will recommend messaging to SAP around this lack of flexibility. In our experience, SAP has been willing to offer some flexibility such as the ability to carry forward a portion of unused resource days toward a subsequent period.
If your company concludes MaxAttention meets the business case, you may be comfortable proceeding without benchmarking the competitiveness of your deal. However, if your organization would like to remain competitive across SAP offerings we recommend engaging with UpperEdge to benchmark your MaxAttention rates, validate resource allocation, and obtain contractual flexibility.
Comment below and learn more about our SAP Advisory services.